Key Features
Private and convenient
Free antibiotic treatment if you test positive for Chlamydia and are medically suitable
Results uploaded to your Patient Record
The results of your vaginal swab will be sent to you confidentially, without you having to visit your doctor face to face.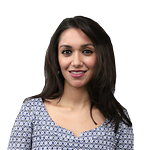 Key Information
Infections tested for

Chlamydia and Gonorrhoea in your vagina.

Required sample

A swab from inside your vagina.

Who is this test for

You do NOT have any symptoms
You are a woman who has sex with men and/or women

 If you have symptoms, we recommend attending your local sexual health clinic.

When should I NOT take this test?

You have any symptoms
You have tested positive for chlamydia or gonorrhoea in the last 6 weeks

If you have symptoms, you should NOT use this service. You require a face to face assessment at your local sexual health clinic or GP. If you have recently tested positive for an STI, you should contact the service that did this test for further advice. If you are unsure whether you need a test, you can take our free STI assessment here.

When do I need to take the test?

We recommend doing the test 2 weeks after having sex. Tests done too early may not be accurate. 
However, if you think you might have Chlamydia or Gonorrhoea, you can test immediately and repeat the test two weeks after having sex (you will need to purchase 2 test kits for this)


How do I access my test results?

Test results are normally ready within 3 working days of your sample arriving at our partner laboratory. You will receive a text and an email when your result is ready.


Confidentiality

Your test results will be completely confidential. We will not inform your GP or anyone else of your result or that you have used our service unless you specifically ask us to.
About Chlamydia and Gonorrhoea
What are Chlamydia and Gonorrhoea?

Chlamydia and Gonorrhoea are two of the most common STIs in the UK. Chlamydia is caused by the bacteria Chlamydia trachomatis and gonorrhoea by Neisseria gonorrhoeae. While they don't necessarily cause symptoms or signs of the infection, they can both lead to serious health issues if left untreated. 
Chlamydia and Gonorrhoea are passed from person to person through sexual contact. This includes any contact with infected semen/ejaculate/pre-ejaculate/discharge in the throat, vagina or rectum. These infections are commonly spread through unprotected oral, vaginal or anal sex, or sharing sex toys. Moreover, because of the lack of symptoms in some people, chlamydia and gonorrhoea are very easily passed on to sexual partners without realising it.