About Wegovy®
What is Wegovy®?
Wegovy® is a weight loss drug containing the active ingredient, semaglutide. It's injected into the body once a week to help you lose weight. Wegovy® is thought to be an effective weight loss drug when used alongside a healthy, reduced-calorie diet and increased exercise.
The drug has recently been approved in the UK, and will be available soon. It was approved in the USA in 2021.  
How does Wegovy® work?
Wegovy® essentially works by suppressing the appetite and regulating food intake. The active ingredient, semaglutide, mimics the action of the hormone that's involved in regulating appetite. This means you feel fuller for longer and less hungry. This can help you to eat less and hopefully lose weight.
It works best when it's taken at the same time as making lifestyle changes (healthier diet and increased exercise). In fact, around 85% of users lost at least 5% of their weight, compared to just 40% losing 5% when no lifestyle changes were made. 
How effective is Wegovy®?
When Wegovy® is combined with a reduced calorie diet and increased exercise, a 68-week study has shown that: 
Around 85% of people lost more than 5% of their body weight 
66% of people lost more than 10% of their body weight 
48% of people lost more than 15% of their body weight 
30% of people lost more than 20% of their body weight
This compares to just 60% of people losing 5% of their weight when taking Saxenda® along with a reduced calorie diet and physical activity counselling.  
Taking Wegovy®
You inject Wegovy® just once a week into your tummy, thigh or upper arm. 
Wegovy® injections come in a variety of dosages. Depending on where you are in your Wegovy® journey, you will need to take a different dosage.
The dosage is upped gradually to make sure you cope with any potential side effects until you get to a sustained dose, this process is known as titration.
If all goes to plan and you can tolerate the treatment, the dosing schedule will be as follows: 

Weeks 1-4: 0.25mg weekly
Weeks 5-8: 0.5mg weekly
Weeks 9-12: 1mg weekly
Weeks 13-16: 1.7mg weekly
Weeks 17 onwards: 2.4mg weekly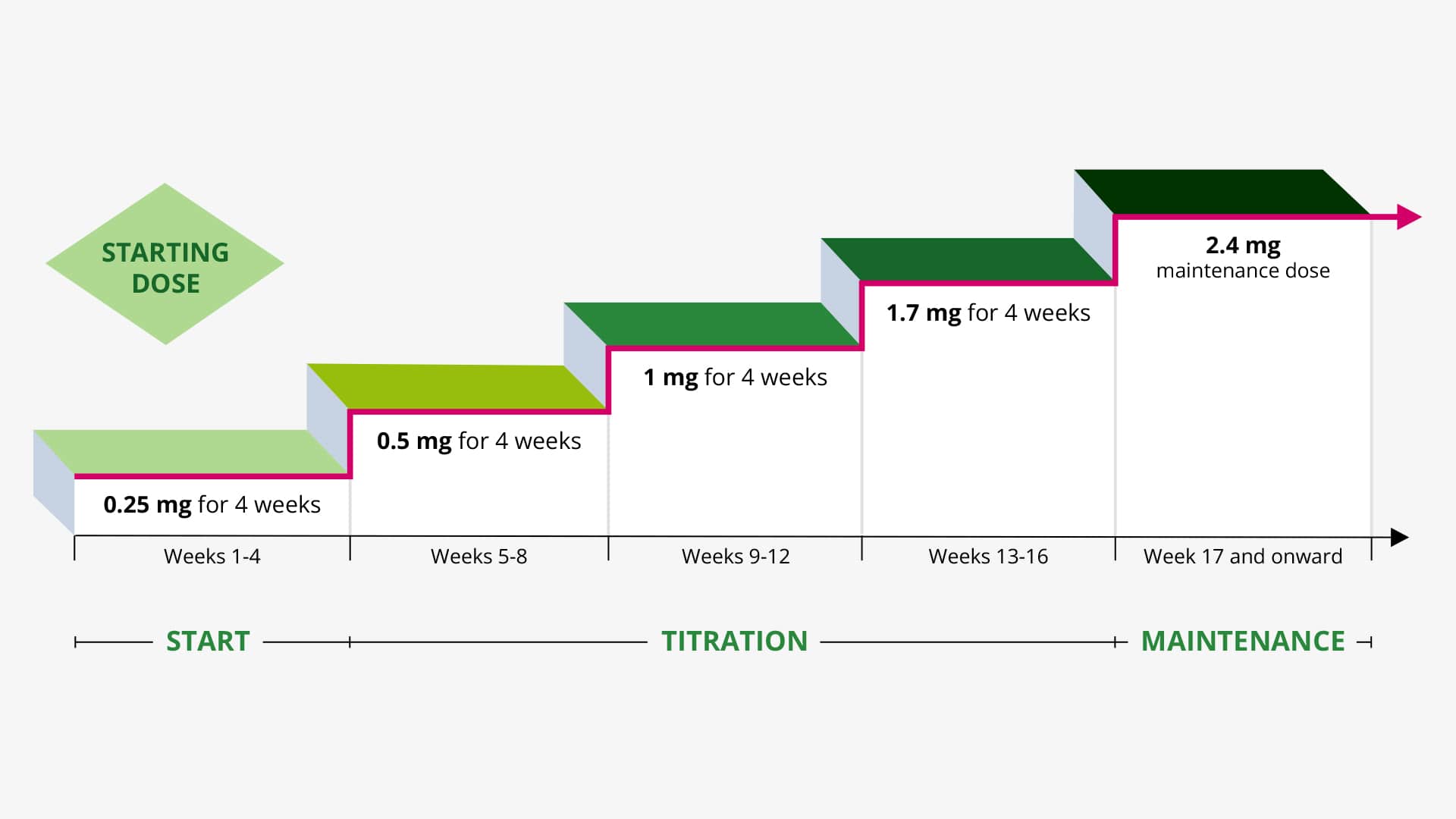 Who qualifies for Wegovy®?
Wegovy® can be used by adults aged 18-75 who have: 
A BMI of 30 or above 
A BMI of 27 or above and you have a weight-related health condition such as: 

Cardiovascular disease 
Diabetes (As we are an online service we are unable to prescribe Wegovy® to diabetics for patient safety reasons) 
Fatty liver disease  
Gallbladder disease 
History of certain cancers 
Osteoarthritis or gout 
Sleep apnoea
You won't be able to take Wegovy® if you: 
Are over 75 
Are pregnant or breastfeeding 
Have liver, kidney or heart failure, an eating disorder or pancreatitis 
Are taking insulin, sulphonylureas or other weight loss drugs that work in the same way as Wegovy®, e.g. Victoza.   
Wegovy® injection potential side effects
Like all medications, some people might feel some side effects from taking Wegovy®. It's thought that more than one in 10 people might experience headaches, vomiting, diarrhoea, constipation, tummy ache or nausea.
Some people might also experience dizzy spells, indigestion and bloating among other symptoms. Find out more by reading the patient information leaflet here.  
How much will Wegovy® cost?
As Wegovy® isn't yet available to request and buy online in the UK, we don't know what the price will be. If you sign up to register your interest, you'll be among the first to know when it's available to request online.