Is HPV curable?
Human papillomavirus (HPV) is a very common virus that most of us (up to 8 out of 10) will have at some point in our lives. The virus infects the skin and any moist membrane such as lining of the mouth and throat, anus, cervix, vagina and vulva. While most HPV infections will clear up naturally in less than two years, some infections can cause genital warts, the infection can also lay dormant and can in some cases trigger uncontrolled growth of cells, which can in turn lead to cancer.
There are a wide range of cancers associated with HPV, the most common being cervical, vaginal, vulval, penile and anal, as well as some throat and mouth cancers, particularly those of the tongue and tonsil. 
Certain types of HPV cause most cases of genital warts, an STI that cause small fleshy growths, bumps or skin changes anywhere on the genitals or around the anus or on the upper thighs.
You can now see why, despite being very common with little impact on most people infected with it, HPV can be a very serious virus. It can have a great impact on those for whom it develops into cancer.
Can HPV be cured?
The short answer is no, there's no known HPV cure, which is a potentially scary thought. However you can be vaccinated against the virus. Whilst these vaccines won't protect you from ever catching HPV, they can protect you from the strains that are most likely to cause you cancer.
HPV vaccine
So with no symptoms, no cure, and potentially serious consequences if left undetected, the thought of catching HPV could be a little scary. So how can we best protect ourselves against HPV? Right now, the answer is the HPV vaccine – most commonly Gardasil (which is available to some on the NHS) or Gardasil 9, which is available privately.
There are actually 3 HPV vaccines. They protect against 2 (Cervarix, which is not widely available any longer), 4 (Gardasil) and 9 (Gardasil 9) strains of the virus. The vaccine that protects against 4 strains is currently being offered to boys and girls aged 12-13 as part of the National Immunisation Programme, this is being phased out to be replaced by Gardasil 9. The NHS also offers the vaccination to those who went to school in the UK, were eligible for the vaccine, but missed it, as well as men under 45 who have sex with men. 
Gardasil 9 is the vaccine we can prescribe to you privately, and will protect against 9 strains of the virus.
Why is the HPV vaccine important?
Gardasil and Gardasil 9 protect against 2 strains of the virus which are responsible for 70% of cervical cancers, 63% of penile cancers, as well as further 2 strains that are responsible for 90% of genital warts. Gardasil 9 protects against 5 further strains of the virus, accounting for 20% more cases of cervical cancer.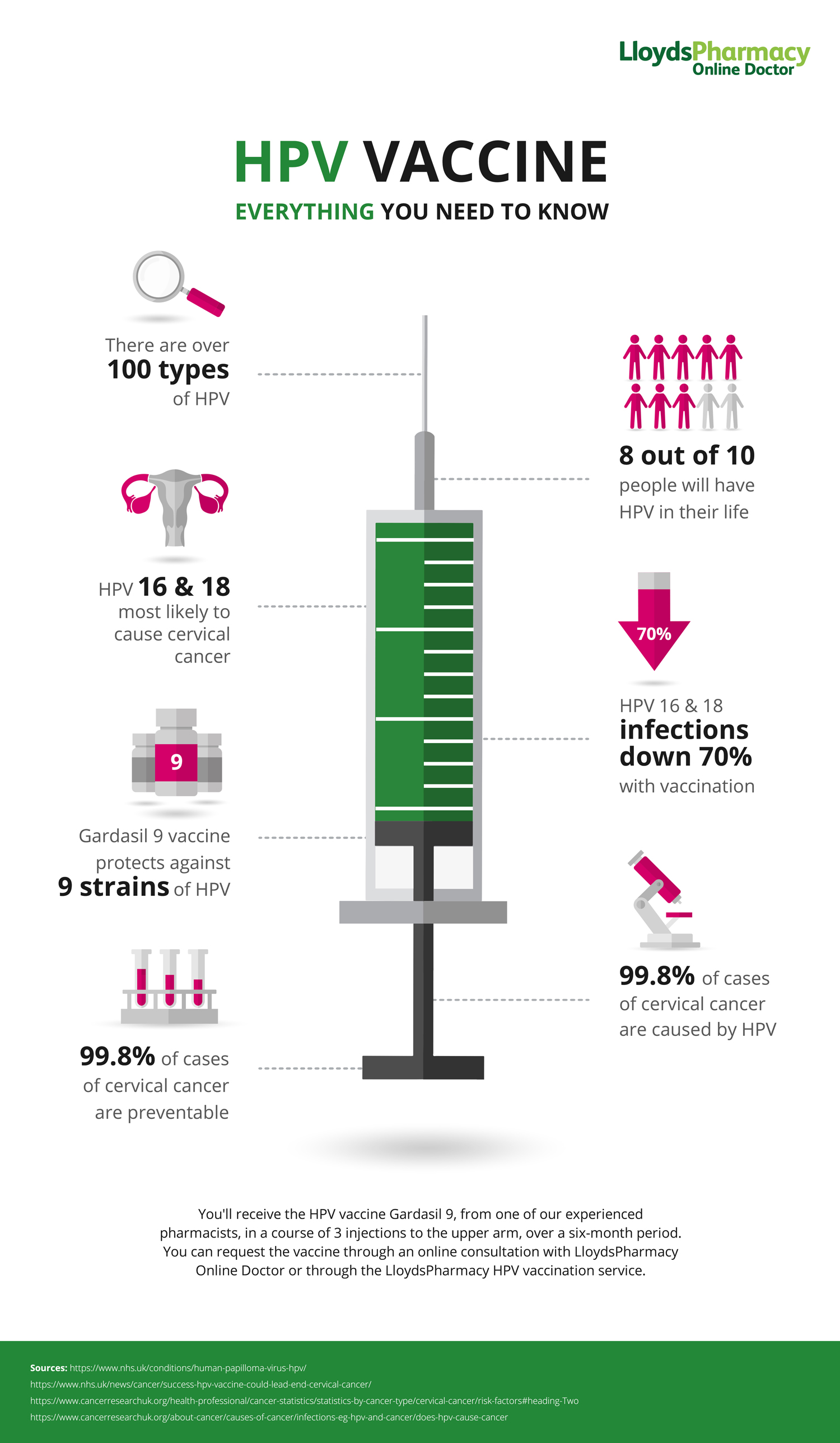 Is it possible to treat HPV naturally?
Again the answer here is no, there is no natural cure for HPV infections. Many people's bodies will fight off the HPV without them knowing, and the virus will go within two years. So while there may be no natural or medical cure, your body may just naturally fight off the virus. 
Why can't HPV be cured?
HPV can't be cured as there has not yet been a treatment or cure developed. There is research underway in the US into vaccines that treat precancerous or cancerous lesions that are caused by HPV. But these are very much in the early stages of testing, safety and efficacy. While the question on how to cure HPV remains open, prevention through vaccination is the best way to protect yourself from the virus. 

Symptoms of HPV
So if I can't cure HPV, what do the symptoms of HPV look like? And more importantly, how do I know if I have it? Put simply, HPV has no symptoms, so unless you are tested (as part of the national cervical screening programme for example), it is very hard to know if you have the virus or not.
Women over 25 are invited to regular cervical screenings, widely known as smear tests. These tests aims to prevent cancer by identifying any abnormalities at an early stage. This can then be monitored and/or treated, so that they do not get the chance to become cancerous.
Other STIs can have symptoms, so if you are experiencing something unusual for you, it is advisable to take an STI test. Practising safe sex, e.g. using condoms and getting regular checks, are the easiest ways to prevent catching STIs. The HPV vaccine will only protect against some HPV related infections, so even if you are vaccinated you could catch an STI.

Find out more about the Online Doctor HPV vaccine service online. 

References
https://www.jostrust.org.uk/information/hpv/what-is-hpv
https://www.tht.org.uk/hiv-and-sexual-health/sexual-health/stis/genital-warts-and-hpv
https://www.hpvwise.co.uk/whyjointhefight.xhtml
http://www.ashasexualhealth.org/a-cure-for-hpv-evaluating-hpv-treatment-options/
https://www.nhs.uk/conditions/human-papilloma-virus-hpv/
https://www.nhs.uk/conditions/cervical-screening/
https://www.letstalkaboutit.nhs.uk/worried-about-stis/preventing-an-sti/
https://www.nhs.uk/conditions/vaccinations/who-should-have-hpv-cervical-cancer-cervarix-gardasil-vaccine/
https://www.cancer.gov/types/cervical/research/gardasil9-prevents-more-hpv-types
https://vk.ovg.ox.ac.uk/vk/hpv-vaccine