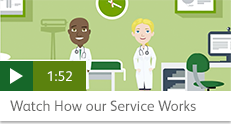 1. Fill out a short medical form
Start by finding the product, service, test or assessment you are interested in and click on the 'Order' or 'Free Assessment' button. You will be taken to a medical form which is secure and confidential, and usually takes less than 10 minutes to complete (with the exception of some test kits which take you straight to checkout).
Depending on the type of product you are ordering, the form will ask you about your medical history and your family's medical history, alongside questions about the treatment you are seeking and the nature of your specific condition. If you are ordering a skin care product or using our photo assessment service, you will be asked to upload photos at this point as well.
Essentially, this questionnaire can be thought of as an online version of the chat you would have face to face with your GP. As such, it's important to be as honest and accurate as possible with your answers. Once you have completed your questionnaire, you will be asked to choose between next day delivery (charged at £4.95), free standard delivery, or free same day collection from one of our 1,800  LloydsPharmacy stores. If you are ordering a test kit, it will be sent out First Class by Royal Mail.
You can then register for an account, or log in if you already have one, and continue to checkout. At this point in the process you will make a payment for your chosen product and will receive an email with confirmation of your order. When you receive your bank or card statement, the transaction will be with 'Lloyds Online'.
2. Start your online consultation
Our clinical team will use the information (and photos, if relevant) you have provided to assess you as a patient, in the same way that your GP would in a face-to-face appointment. Whether or not your doctor or pharmacist decides that your health history and lifestyle renders you eligible for treatment, they will notify you of their decision via your Patient Record.

Turnaround times

On weekdays (9-5pm), the clinician will aim to respond within 1 hour (click & collect) or within 3 hours (delivery & assessments)

At weekends and bank holidays (9-4pm), the clinician will respond within 3 hours

Orders placed after 5pm will be processed the following morning
3. Receive fast treatment & advice
You will receive email confirmation that your Patient Record has been updated, and will then be able to log back in to read your clinician's assessment. The clinician who processes your order and questionnaire will contact you confidentially with their assessment, alongside their name and registration number.
If your clinician has deemed you ineligible for treatment they will advise you upon your next course of action, and your payment will be completely refunded. In some cases, the clinician may require further information about your medical condition before proceeding. You can do this by sending them a message via your online Patient Record, or by booking a telephone conversation for asthma or contraception only.
If your clinician has deemed you eligible for treatment, the order you made earlier will be automatically processed. 
Alternatively, if you have completed a Free Assessment or have tested positive for one of the conditions we treat, your clinician can make available to you any treatments that are suitable and give further advice. At this point, you will select your chosen treatment and proceed to checkout.